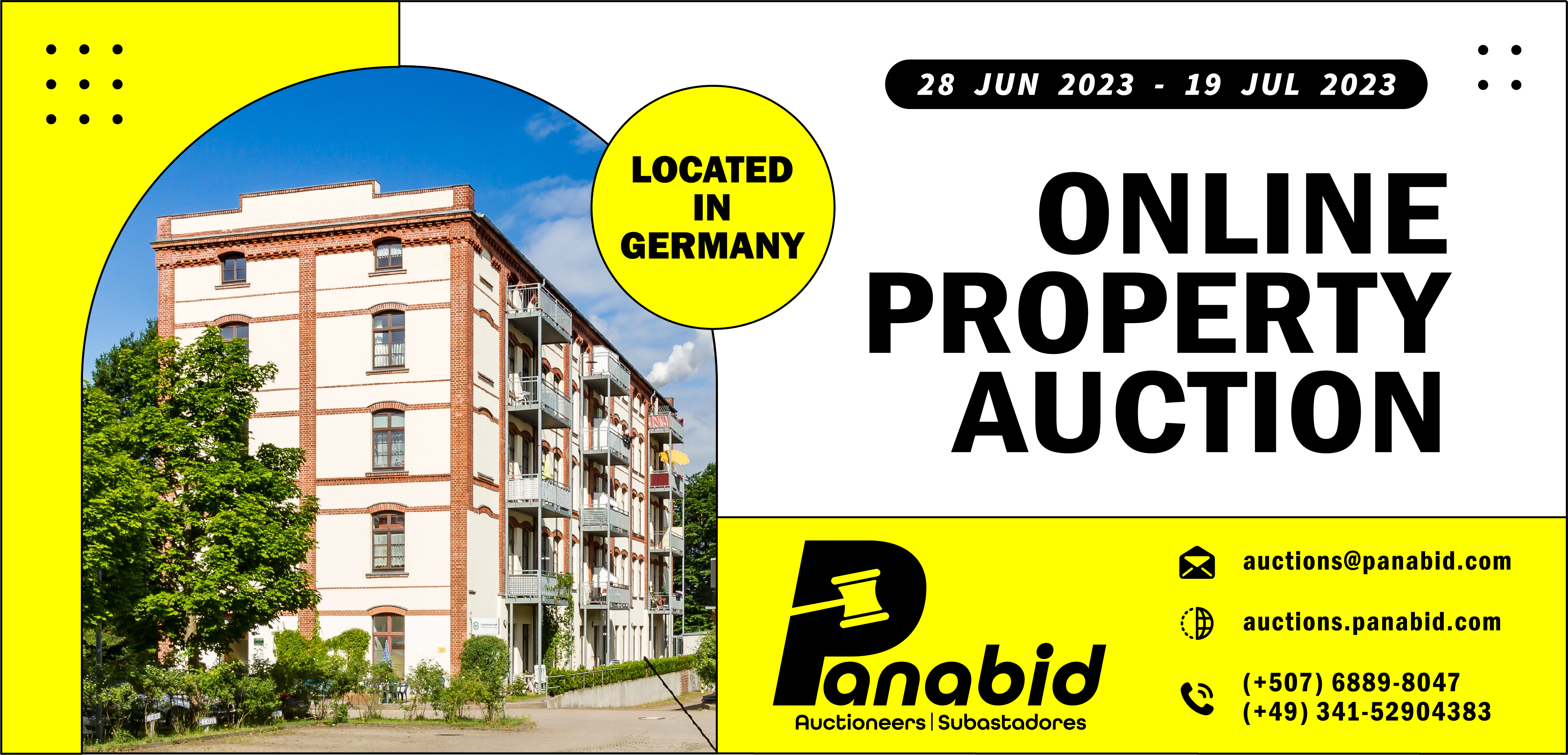 SKILLED RETIRED INVESTORS PORTFOLIO: TWENTY-NINE UNFINANCED AND MODERNISED APARTMENTS ON AUCTION LOCATED IN GERMANY
REGISTRATIONS ARE OPEN EVEN ONCE AUCTION HAS STARTED.

ALL LOTS ARE LOCATED IN GERMANY.
ALL LOTS TO BE SOLD SUBJECT TO CONFIRMATION TO HIGHEST BIDDER.
PLEASE ADHERE TO ALL COVID-19 RULES AND REGULATIONS IMPLEMENTED BY THE MINISTRY OF HEALTH DURING VIEWING.
CLICK HERE TO DOWNLOAD THE REGISTRATION FORM FOR THIS AUCTION (IT CAN BE FILLED OUT ELECTRONICALLY OR PHYSICALLY).
WHATSAPP LINE:
(+507) 6889-8047
REGISTRATION DEPOSITS & CURRENCY PAYMENTS
ACCEPTED CURRENCY: EURO
NO REGISTRATION DEPOSIT IS REQUIRED, ONLY FILL OUT THE REGISTRATION FORM AND SUBMIT ANY ADDITIONAL DUE DILIGENCE DOCUMENTS.
ALL DOCUMENTS MUST BE SUBMITTED ALONG WITH COMPLETED REGISTRATION FORM TO auctions@panabid.com
BUYER'S PREMIUM
7% BUYER'S PREMIUM CHARGED ON PURCHASE PRICE.
TAX AND OTHER EXPENSES
5.5% REAL ESTATE TRANSFER TAX CHARGED ON PURCHASE PRICE.
1% NOTARY FEE CHARGED ON PURCHASE PRICE.
0.5% LAND REGISTRY FEE CHARGED ON PURCHASE PRICE.
VIEWINGS
PRIOR ARRANGED APPOINTMENTS ONLY.
CONTACTS FOR VIEWINGS
JULIA GRÜNDNER: 0341/52904383
ASSET TRANSFER
ASSISTANCE WILL BE PROVIDED WITH ALL PAPERWORK NEEDED.
10% OF THE PURCHASE PRICE WILL BE REQUIRED FROM SUCCESSFUL BIDDERS TO COMMENCE THE TITLE DEED TRANSFER PROCESS.
THE OUTSTANDING BALANCE (90% OF THE PURCHASE PRICE) WILL BE SETTLED UPON FINAL SIGNATURE OF THE TITLE DEED.
ALL REVOCABLE BANK GUARANTEES MUST BE SUBMITTED IN FAVOR OF THE SELLER.
ALL INVOICING WILL BE DONE ON CONFIRMATION OF ASSETS VIA EMAIL AND IN EURO.